SPANISH DESIGNER OLGA IF BRINGS HER INCLUSIVE FASHION TO RUSSIA AND CREATES A PLATFORM TO PROMOTE YOUNG DESIGNERS.
* MODAVISION ® is an international fashion contest, along the same lines as Eurovision in music, but in this case with a fashion theme, in which designers representing different countries will participate.
* MAESTRO KID, a project with a catwalk in which fashion designed by children will be exhibited with the slogan ¨Mom, I want to be a fashion designer¨
Spanish fashion has traveled to the Russian region of Kuzbass with the help of Olga IF, the only one in fashion history to win the double GUINNESS WORLD RECORDS ® Fashion record in Madrid, winner of two European awards for best design (Milan fashion week) , winner of the Prestige Award 2020 (Madrid), which has formalized the Russian edition of the MODAVISIÓN ® project , whose final edition - with the international Awards ceremony - will take place in the months of September or October 2021.
Since her arrival in Spain, the businesswoman and designer Olga IF settled in Madrid, where she has her atelier and organizes her international activity. After winning her double GUINESS WORLD RECORD ® Record , precisely in Madrid last February, she received a letter from the President of the Community of Madrid, Isabel Díaz Ayuso , in which she recognized the fashion entrepreneur Olga IF "for her contribution to the fight for inclusion, diversity and equal opportunities".
The Madrid President also highlighted the "vocation of the catwalk and the added fact that it took place in Madrid"; to conclude her letter wishing "success in your work, with my repeated congratulations for your achievement." Olga IF has also received recognition from the Madrid City Council, through the Tourism Delegate of the City Council and General Secretary of the Union of Ibero-American Capital Cities (UCCI), Almudena Maillo , on the occasion of the award of the GUINNESS WORLD RECORDS ® commemorative medal to the Madrid Corporation.
Olga IF is already in the classification of the 62 most important designers in Spain , according to Wikipedia, and recently traveled to Russia after visiting various countries to organize local editions of MODAVISION ® , which will choose winning designers who will finally compete in a world final representing their corresponding countries with the awards ceremony.
MODAVISION ® is an ambitious inclusive fashion project, which is presented as an opportunity to unite fashion, sport, artistic activities and fashion prescribers and Lifestyle youtubers.
MODAVISION ® (country) will take place between July and August in all participating countries (approx. 15) and MODAVISION ® international final in September-October 2021 with inclusive catwalk and live musical and sports performances with a jury chosen for their professional career and its significance in the contemporary history of fashion in different countries.
¨ I felt one great emotion, when Argentinian designer de High Fashion , Writer, Artist, Philanthropist , Roberto Piazza accepted the invitation to be a member of Jury for MODAVISION ® . It is a great pleasure to work with him. In fact, we showcased at ETNO MODA introducing Spanish and Argentine fashion to Russia ¨ explains OLGA IF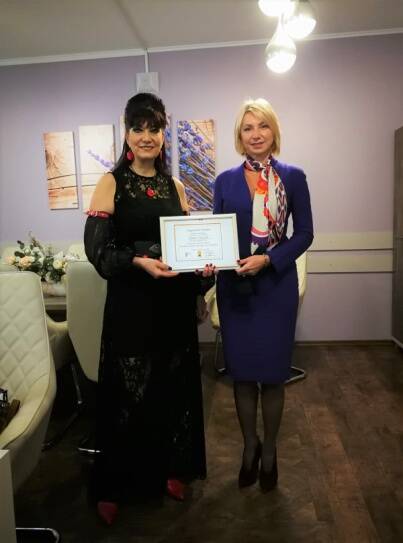 During her stay in Russia, Olga IF visited different stages in Kuzbass, to locate the auditorium in which the edition of MODAVISION ® Russia scheduled for July 2021 will take place. She also met with the Delegate of MODAVISION ® Russia, Tayana Alipova , in an event held at the Mezdurechensk City Hall , at which the Mayor, Chernov Vladimir NIkolaevich , was present .
In addition, Olga IF presented the official GUINNESS WORLD RECORDS ® commemorative medals, awarded by the organization to Olga IF last February,to the mayor of Tashtagol , Makuta Vladimir , and the governor of the region. Kemerovo Sergey Tsivilev , through the Minister of Culture of Kuzbass, Evsa Marina Alexandrovna .
Ethno Mode .
Olga IF participated as a Jury during her stay in Russia at the Ethno Moda festival , organized by the Adyghe State University and the Russian Youth Union with the support of the Federal Agency for Youth Affairs, becoming one of the first platforms in Russia promoting inclusive fashion with Spanish Olga IF's help .
Thanks to Olga IF's contribution, for example, the designer with special needs from Colombia, Yolis Montanes , was able to parade. Olga IF reported to the Russian news agency TASS : " Despite her limited movements, Yolis fights for her dream of becoming a famous fashion designer and go to large catwalks. For this reason, we are happy to bring her closer to this objective, here at Etno Moda ".
Likewise, Olga IF brought representatives from 13 countries around the world , most of them young designers, to the Etno Moda catwalk , such as Monday Blessing Alice from Nigeria; Marvin Zziwa, from Uganda; Josh Santana , from Brazil; Sandra Angmar , from Ecuador; Ismael Lama , from the Dominican Republic; Brianda Zambrano , from Argentina; Enria Santawi from Indonsia ; Valentina Hoyos , from Colombia; Valentina Poltronieri from Italy ; Lizz de Vidal and Brayan Perez , from Salvador ; Design By Veronique from Spain; and two Olga IF brands - Imaginative Fashion and Kidraws
For the second time, first it was during Worldvision Fashion Show, Olga IF created a fashion "bridge" created between Russia, Spain, Latin America, Africa and Europe.
In her statements to the local media, Olga IF was delighted to have contributed to Etno Moda, after this edition, becoming fully part of the international movement of catwalks dedicated to inclusive fashion.
Olga IF also announced to the Russian media that her close collaboration with Susanna Makerova since last year, has first resulted in the creation of an open creative platform to search for fashion trends based on ethnicity; and, most importantly, the prospects and development of the potential of young designers internationally.
Maestro Kid, fashion designed and paraded by children
During Olga IF's stay in Russia
the Kuzbass authorities examined the Maestro Kid project
fashion designed and made by children - deciding that it will be held in 2021.
Children from 6 to 17 years old are invited participate in the contest. It is international and inclusive, that is, regardless of nationality and physical or mental health. "Mom, I want to be a fashion designer!" - the motto of the project, which is already shared by 14 countries.
- 'I was struck by the "European vision" of the mayor of Mezhdurechensk Vladimir Chernov . When it came to children, Vladimir Nikolaevich showed tremendous interest, not only supported the project, but also contributed his ideas to it! One of them defines the theme of the drawing dedicated to the taiga city, "taiga civilization". Taiga is a huge concept. This is snow, trees, mountains, man walking, forest, animals, flowers - whatever you want! On a piece of paper, children will be able to express their understanding of the place where they are lucky to live. In addition, they can represent not only clothing, but also furniture with signature prints. I thank the mayor for supporting the world project! ¨ said Olga IF
As a result, Kidraws will be the clothing brand selling the winning children's creations of Maestro Kid.
Children will receive part of the proceeds. Part of these will be aimed at helping those most in need. We want to encourage the creativity of children and create jobs in the city. If your child says: "Mom, I want to be a designer! ", today they have a real perspective to develop their talent and show their imagination.
You can become famous in the fashion world!
Contact :
MODAVISION SPAIN @worldvisionfashionshow
@olgaifofficial
Maestrokidofficial@gmail.com
@maestrokidofficial
@modavisionofficial
Olga IF, an extraordinary woman in every way, who develops her life and career making her way in the world of fashion breaking all stereotypes and fashion standards, helping children, women and men fulfill dreams. Her most recent achievement is the double Guinness World Record in Fashion for most models and nationalities at a fashion show, with 421 and 78 respectively.
Olga is today one of the creators of Fashion and generator of Fashion events with the greatest international projection, capable of showing the world that the current scenario forces us to project ourselves with a global mentality.
She is currently in the Fashion market with two projects "Mastro Kid" with the slogan "Mom I want to be a fashion designer" and 'Modavision "- an international competition, with the similar idea what Eurovision is in music, but in this case with the theme of fashion.
Winner of the PRESTIGE AWARDS 2020, two 2020 European awards for the best men's designs and the collection created by children. She has a profile on Wikipedia https://es.wikipedia.org/wiki/Olga_Prokhorova, and she is currently on the Fashion market with two brands: Imaginative Fashion and Kidraws.
maginative Fashion designs became well known thanks to the appearance of 14 Olga IF's creations on the USA TV show American Beauty Star, one of the most followed television shows in the United States. The look of Olga IF's creations could be seen by millions of viewers who followed with maximum attention the chapters in which the clothes of Imaginative Fashion, one of Olga IF's brands, appeared.
Olga IF presence in international events has intensified in recent years, awarded with two European awards for the best design of the men's collection and the best design made by children at Milan Fashion Week and highlighting the Worldvision Fashion Show project prize won at the World Folk Vision International Competition, organized by the Eurasian Council of Culture Science and Education held in Sochi (Russian Federation) in September 2019.
She has been a sponsor and Jury of various beauty contests and international fashion contests in Spain and other European countries. Always determined to experiment with new creative fields, she has participated in the Shop Windows Contest in Madrid es Moda 2019.
The list of publications in which Olga IF has been published in
Both in Spanish and international specialized magazines, highlighting Vogue, HOY magazine, SuenaFM, TASS, ABC, Europa press, Agencia ELE, ABC, Europa press, La Vanguardia, Life Style Plus Magazine, Excellent Magazine, District TV, Tele 5, Madrid Directo, Antena 3, TV and Radio Mas que POP, radio / TV Russia, among many others.
Media from different countries (Holland, Kazakhstan, Mexico, Mauritius Islands, USA, Russia, Spain, Colombia, Spain, Dominican Republic, Bulgaria, etc.) have been interested in his career and her large-format projects, characterized by the ambition of their proposals and always with a global perspective of creation and Fashion.